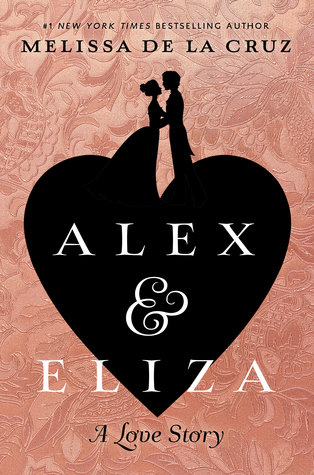 Title: Alex and Eliza
Author: Melissa de la Cruz
Publication date: 2017
Publisher: G. P. Putnam's Sons Books for Young Readers
Number of pages: 368
Genre: Young Adult, Historical Romance
Goodreads synopsis:  1777. Albany, New York.

As battle cries of the American Revolution echo in the distance, servants flutter about preparing for one of New York society's biggest events: the Schuylers' grand ball. Descended from two of the oldest and most distinguished bloodlines in New York, the Schuylers are proud to be one of their fledgling country's founding families, and even prouder still of their three daughters—Angelica, with her razor-sharp wit; Peggy, with her dazzling looks; and Eliza, whose beauty and charm rival that of both her sisters, though she'd rather be aiding the colonists' cause than dressing up for some silly ball.

Still, she can barely contain her excitement when she hears of the arrival of one Alexander Hamilton, a mysterious, rakish young colonel and General George Washington's right-hand man. Though Alex has arrived as the bearer of bad news for the Schuylers, he can't believe his luck—as an orphan, and a bastard one at that—to be in such esteemed company. And when Alex and Eliza meet that fateful night, so begins an epic love story that would forever change the course of American history.
Did I wait for it? Yes. Was I satisfied? Absolutely not.
Yikes. Yikes yikes yikes. Alex and Eliza is a historical retelling of the romance between Alexander Hamilton and Elizabeth Schuyler, written off the high the author experienced when she saw the musical Hamilton. I adore the musical, and was stoked when this book got announced. I was ready for more witty battles between Eliza and Angelica, steamy frustrations between Angelica and Alexander, and just a lot more screen-time with Peggy. What I got, however, was quite the opposite.
Info dumping. So much info dumping. The novel starts with a prologue that is completely unnecessary because everything that it sets up is blatantly said in dialogue in the next chapter. While it was supposed to set the scene for history, it bored me to skimming, and that was only on the second page. Eliza's character is not what I expected at all—she's a special snowflake who cares more for revolution than wearing a fancy dress at a party. But of course, she falls for the handsome Colonel Hamilton, who is more or less bumbling his way into popularity in the eyes of ladies.
I'm no history major, but I can't vouch for any of the events or time periods that happen within the novel. A lot of what happened seemed YA convenient, which may perhaps deserves the benefit of the doubt because not every moment of their lives is categorized. But the scenes were boring to the point of me skipping down the page to find witty dialogue, but when I found none, I was severely disappointed. Even the other apparently beautiful and talented Schuyler sisters fell flat on the page. I have no doubt the author researched the time period, but she should have spent more time getting to know the historical figures she would be representing.
I only got to about page 140 before I gave up. I cared little for these characters and the plot points were dull. I'll stick to my musical, if Ms. de le Cruz sticks to vampires.