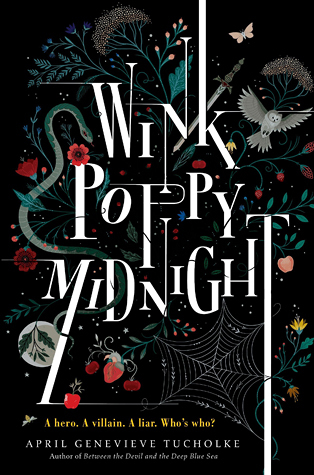 Title: Wink Poppy Midnight
Author: April Genevieve Tucholke
Publication date: March 22nd, 2016
Publisher: Dial Books
Number of Pages: 247
Genre: Young Adult, Mystery, Contemporary
Goodreads synopsis:
Every story needs a hero.
Every story needs a villain.
Every story needs a secret.
Wink is the odd, mysterious neighbor girl, wild red hair and freckles. Poppy is the blond bully and the beautiful, manipulative high school queen bee. Midnight is the sweet, uncertain boy caught between them. Wink. Poppy. Midnight. Two girls. One boy. Three voices that burst onto the page in short, sharp, bewitching chapters, and spiral swiftly and inexorably toward something terrible or tricky or tremendous.
What really happened?
Someone knows.
Someone is lying.
I had been in awe of this book's cover for a long while. I had seen it lurking in the library every time I went home, and I kept pushing it off for a later read. However, when I finally picked it up, the mystical element of the artwork did not disappoint.
I was enraptured by the poetic nature of Wink Poppy Midnight's writing. The story is told between three teenaged narrators—Wink, a girl from a poor family known for their dabbling in tarot card readings and general witchy-ness; Poppy, the blonde spoiled girl who has her friends wrapped around her finger and enjoys being nasty to others because she can; and Midnight, a boy who once loved Poppy, but is now pursuing a relationship with Wink. 
The novel opens with Midnight's family moving across town to live next door to Wink, and Midnight sees it as the perfect opportunity to forgo all things Poppy, as she more or less played Midnight into falling in love with her by using sex as a weapon. Unfortunately, Poppy likes having Midnight at her beck and call, and starts to bully Wink in order to get him to notice her again. 
"Revenge. Justice. Love. They are the three stories that all other stories are made up of. It's the trifecta."
The story is laid out like a bit of a folk tale. When Wink narratives, she refers to Midnight as "The Hero" and Poppy as "The Wolf." Wink believes that she is destined to become part of a fairy tale, which is why she seems almost desperate to let Poppy and Midnight fill their respective roles as Hero and Wolf. The story comes to a climax when Poppy attempts to play a prank with Midnight on Wink by tying her up in a haunted house, trapping her there for the night. Instead, Midnight locks Poppy in, and the next morning, Poppy is missing. The mystery element comes into play when Midnight must follow the clues in the letters Poppy left to all of her cronies to find out where she is.
That being said, it took a while for the plot to kick in. I kept reading simply because of the poetic language. The majority of the novel is really just set up, and it gets much more gripping in the second half. There is a surprise twist at the end that made me clutch the book and say "WHAAAA???" (But, I can't tell you about that, unfortunately.) 
Wink Poppy Midnight is a short romp about a sort of coming of age. It made me feel like I was part of a dark fairy tale. I enjoyed it, but I wish the story would have been paced better.