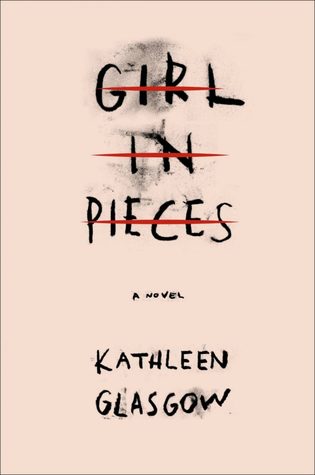 Title: Girl in Pieces
Author: Kathleen Glasgow
Publication date: August 30th 2016
Publisher: Delacorte Press
Number of pages: 416
Genre: Young Adult, Contemporary
Goodreads synopsis:
Charlotte Davis is in pieces. At seventeen she's already lost more than most people lose in a lifetime. But she's learned how to forget. The broken glass washes away the sorrow until there is nothing but calm. You don't have to think about your father and the river. Your best friend, who is gone forever. Or your mother, who has nothing left to give you.
  Every new scar hardens Charlie's heart just a little more, yet it still hurts so much. It hurts enough to not care anymore, which is sometimes what has to happen before you can find your way back from the edge.
 A deeply moving portrait of a teenage girl on the verge of losing herself and the journey she must take to survive in her own skin, Kathleen Glasgow's debut is heartbreakingly real and unflinchingly honest. It's a story you won't be able to look away from.
This book's poetic nature instantly drew me in. The story is told in snippets, each chapter a paragraph or two. This tactic lets the narrative be raw and realistic. The novel starts with Charlie in a hospital, getting help after a near suicidal experience. She is eventually released from the hospital, with the intentions of going home with her despondent mother, but ends up taking a bus out to Arizona to live with a close friend.
Charlie's life is like a back and forth between getting better and falling back into bad habits. I found this to be incredibly realistic. She gets a job, but hooks up with an older coworker who wants uses her to buy his drugs. She believes she loves her best friend, but he ends up getting abruptly married to another girl. She goes on a bender, but impresses a local artist, who works with her to improve her art.
This back and forth frustrated me, but I understood the reasoning behind it. Had the author let Charlie get over her addiction and bad habits in one chapter and based the novel around her getting better, it wouldn't be true to real life. There were parts of the novel that were incredibly hard to read, as Charlie is a cutter and bends back a few times to her old habits. However, the plot kept me reading, and it was never too dark for too long.
There was no real conclusion to the story. It just sort of ended, and for a minute I wasn't sure if it was still going. Due to the heavy tones of the book, I knew I wasn't going to get a happy ending, but I still wished it would have tied up all the loose ends in a better way.
(And while it is a great novel, I wouldn't recommend reading this work if you have any kind of depression or self harm triggers.)